(Food and consumer
Onions are considered an indispensable ingredient of most Indian cooking, providing the pungent foundation for a thousand different curries and other dishes. Onion prices have been an important political issue: they were regarded as the decisive factor in the 1998 state elections in Delhi and Rajasthan, and were responsible for bringing down the central government in 1980. India is the second largest onion producer in the world, after China.
Onion prices soared to the year's high of Rs 90 per kg in many parts of the capital on Monday, amid indications that the staple many touch Rs 100 before coming down to more normal levels around Diwali.
Market watchers said the quantity of fresh arrivals were not as much as expected and this was likely to further raise prices over the next one week. Onions were selling between Rs 60 and Rs 80 in other parts of the country, including Mumbai, Kolkata and Varanasi
The Indian economy is facing one of its worst crises in a decade and while that is worrying the political and economic fraternity, what is worrying ordinary Indians is the price of onions.
People here eat their way through 15 million tonnes of onions a year. Almost every dish uses it, whether cooked in a curry or eaten raw as an accompaniment to a meal.
Five month ago, one kilogram of onions would have cost about 20 rupees (20p; 30 cents). Since then, the price has gone up nearly five-fold, costing up to 100 rupees and stinging everyone in India.
One of Delhi's most popular radio station hosts is discussing the price of onions and the lines are buzzing as listeners call in to give their views on one of the most politically sensitive issues in the country.
Strumming a guitar, disc jockey Nitin sings a parody about onions based on a popular Bollywood number.
He says it's the topic everyone is talking about.
"We get a lot of callers, even the middle-class people who can afford it have been calling up and they are pretty angry about this issue," he says.
"Onions are so basic. Some people have taken it in their stride, so they make jokes about it. One caller said it was his anniversary so he gave his wife a ring with an onion on it!"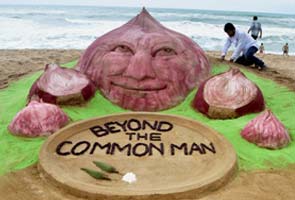 (A sand sculpture made in Puri to illustrate the spiraling onion prices in India)
According to the government, the domestic availability of onion has been affected to an extent on account of damage to kharif crop following unseasonal rains in key producing states including Maharashtra.
 Nashik-based NHRDF director RP Gupta too said that "the kharif crop has been affected due to untimely rains in Maharashtra, Andhra Pradesh and Karnataka." The NHRDF — National Horticultural Research and Development Foundation — is a government-run research body.
Currently, onion supplies are less than 50% of the country's monthly estimated total demand of 9-10 lakh tonnes. The stored onions have also got exhausted now, adding to the price volatility.
India produced 16.3 million tonnes of onion last year. India consumes 88 per cent of the total onion production and exports 10 per cent.